Skip to main content
your browser is not supported
To use ASOS, we recommend using the latest versions of Chrome, Firefox, Safari or Edge
Returns & Refunds
How will I get my refund?
Christmas returns
We've extended our returns policy for Christmas 2023. Orders placed between 13 November 2023 and 18 December 2023 can be returned up until 15 January 2024 for a full refund back to your original payment method.
Orders placed after 18 December 2023 are subject to our Returns Policy.
The basics
Credit/debit card payments
Gift voucher and gift card payments
Klarna payments
Clearpay payments
PayPal Pay in 3 payments
I used a promo code
I think my refund is incorrect
It can take up to 10 calendar days from the day after you dropped off your return for it to reach our warehouse and be processed. We'll let you know once that's done – you'll receive an email with all the details about your refund. You can also set up push notifications in the ASOS App to keep an eye on updates about your refunds – read more about push notifications here.
You can check where your returned parcel is using the tracking number that can be found in the 'My Returns' tab in 'My Account' or in your return drop off confirmation email.
Return tracking showing it's delivered, but you didn't get an email yet? We need the full 10-day timeframe to process all incoming returns, especially during busy periods.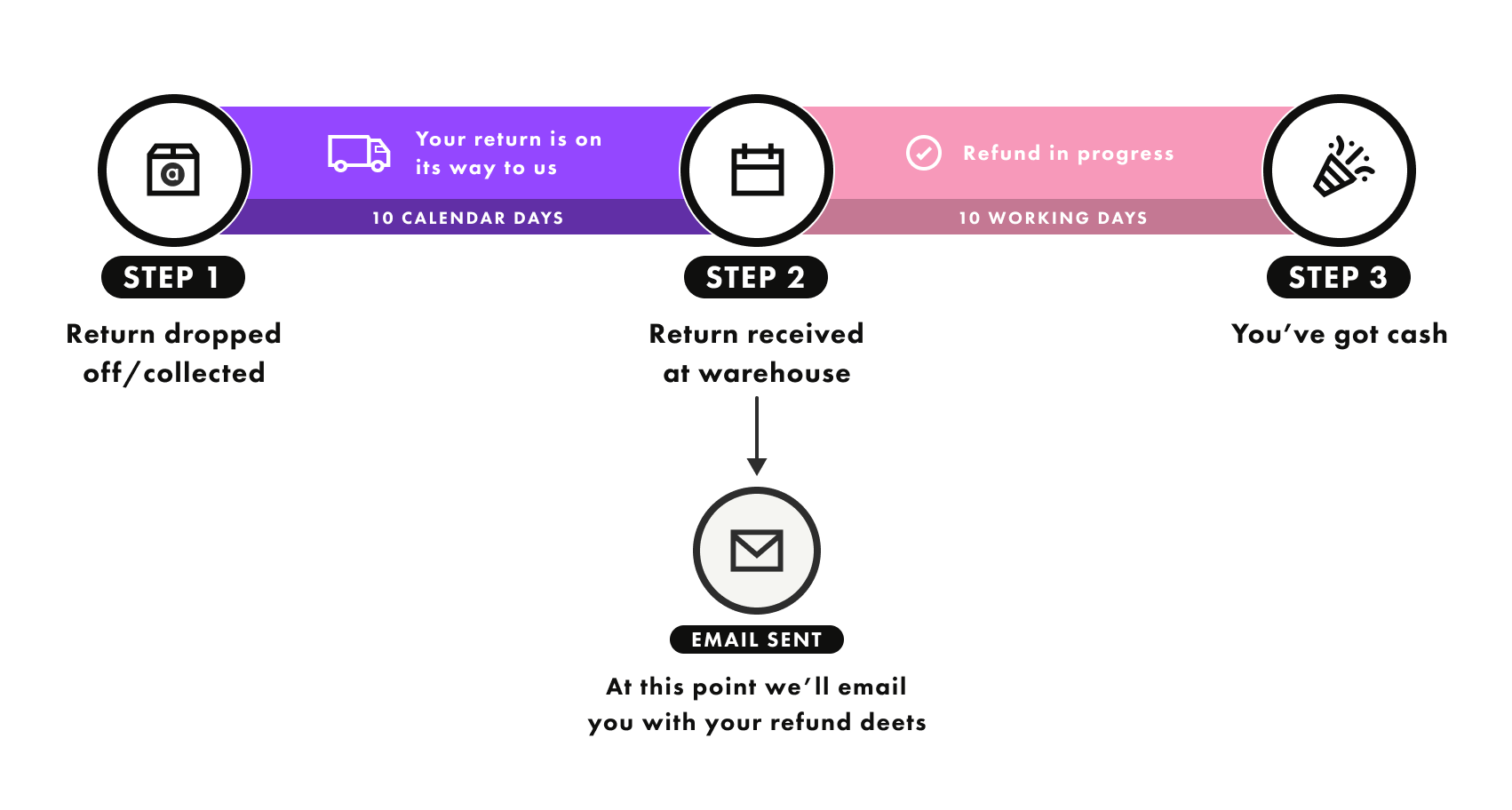 After we refund you, it may take up to 10 working days for the refund to reach your account – this depends on your bank or card issuer.
All refunds go to the original card used to pay for the order – we can't refund you to a different card. If that card is no longer in use, the refund will still go back onto the account linked to your old card, providing that account is still open.
If you paid for your whole order with a gift voucher or a gift card, then the refund will be credited to your ASOS account ready for you to spend straight away. 
If you paid with a combination of gift voucher/gift card and another payment method, we'll refund the alternative payment method first and then the remaining amount will be credited to your ASOS account ready for you to spend.
Your replacement gift voucher will have the same expiry date as your original gift voucher.
Don't forget to log your return on the Klarna app once you've sent something back to us!
Once we've processed your return, we'll let Klarna know. Klarna will adjust your outstanding invoice within 24 hours after that. If you've already paid for your order, Klarna will issue a refund within a further 10 working days. 
For any questions about how Klarna works and their Ts&Cs, please visit the Klarna website here.
If you have any questions about your Klarna payments or about extending your invoice, please contact Klarna Customer Service. ASOS aren't able to extend your invoice.
When the refund is processed, any upcoming payments you have to Clearpay will be cancelled and any payments you have already made will be refunded back to the card you paid with. If you have any instalments that are still due, these will be adjusted to reflect what you have returned. 
If you have any questions about paying with Clearpay, please visit Clearpay's website here.
If you've already paid instalments and your refund amount is more than the balance remaining, your PayPal account will be refunded. If your refund amount is less than the amount you have left to pay, your refund will be split equally across the remaining 2 instalments, so the amount for the remaining 2 instalments will be adjusted.
If you have any questions about your PayPal Pay in 3 payments, please get in touch with PayPal customer service here.
If you applied a promo code, please make sure you check the promo code's Ts&Cs.
Most of our codes require you to either buy a specific number of items or spend a specific amount for the discount to apply. If you place an order using such a code and then return an item that makes your order no longer meet the conditions of the promo code, the amount you're refunded may be adjusted or no refund will be given.
An example of how a refund may be adjusted is below:
· Code - £20 off a minimum £100 spend
· Order total - £110
· Returned item cost - £30
As the return brings the total spend under the minimum spend of £100, the refund would be adjusted to reflect this and the discount of £20 removed. This would mean a refund of £10 would be issued.
Some Percentage promo codes will vary depending upon the products purchased and the promo code may apply a different discount to each item, e.g., '5% off item 1, 20% off item 2 and 50% off item 3', you'll see a breakdown of each discount at the checkout. If you need to make a return, you'll see this reflected in any refunds you may receive. 
There are a couple of things that may affect the amount you're due.
If you used a promo code, check if your order still meets the conditions of the code without the items you've returned. See the above example of how your refund may be affected.
If you paid for delivery, this would only be refunded for cancelled orders under the Consumer Contracts Regulations (2013) or if the item was faulty.
If you still think your refund is incorrect, or if all the above timeframes have passed and you still haven't received your refund, please get in touch with us and provide your proof of postage – we'll be happy to help.
Just one more thing...
 Disclaimer: our website contains links to websites owned and operated by third parties; these are provided solely for your convenience. ASOS have no control over these sites and are not responsible for their content or availability.