Skip to main content
your browser is not supported
To use ASOS, we recommend using the latest versions of Chrome, Firefox, Safari or Edge
Product & Stock
Can you tell me if you're going to restock an item?
If you have an item in your saved items list, you can choose to be notified if the item comes back in stock, when using the ASOS app.
     - How do I sign up for back in stock notifications?
     - When will I be notified?
     - Looking for something similar?

Tap 'notify me' under the item in your saved items list and if the item comes back into stock in your selected size, we'll let you know.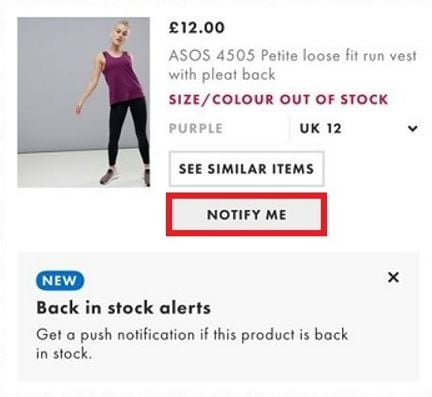 You'll need to make sure that you have enabled push notifications to receive the alert. 
As we like to offer you new and exciting products regularly, we're not able to let you know if, or when you'll receive a back in stock notification for an item.

Please note, this feature is only available on the ASOS app at the moment. If you're using our desktop or mobile site, we won't be able to let you know if an item is coming back into stock.

If you've received a back in stock notification, you'll need to be quick as we can't guarantee how long the item will be back in stock for.

If the item goes back out of stock again before you've purchased it, you'll need to sign up to be notified again.
In the meantime, why not have a look for something similar? All you need to do is type a description or trend into the search box on our website. You can narrow down the selection by using our Refine section at the top of the page.

You could also try Style Match on the ASOS app, which will help you find something similar to the item you're looking for.  Go to the search bar and tap the camera icon - from here, you can upload a picture from your photo library or snap a photo. We'll then show you a variety of similar items instantly.
Keep checking back in stock

It's always worth keeping an eye on our Back in Stock section for items that have been restocked - click here for the Men selection and here for the Women selection. Our new in section also includes all our latest items, so it's worth a look! Check out the Women edit as well as our New In Men edit.